About Burasari
Discover the stunning tropical beauty of the island paradise of Phuket with Burasari. Named after the rare, unusual flower that grows on the property, the boutique hotel is a luxurious retreat in the heart of vibrant Patong Beach.
Subscribing to a 'Feel At Home' philosophy, Burasari offers discerning travellers the experience of a warm home with a stylish design, amidst the calming elements of nature. Within this peaceful oasis our guests enjoy comfort, privacy, tranquillity and world class dining for a holiday of a lifetime.
Choose from our wide collection of striking accommodation that includes the Honeymoon, Elite Collection, and Mood Collection rooms. Décor ranges from the elegant, classic northern Thai Lanna style with antiques and woodcarvings, to the minimalist, airy contemporary Thai style. The fabulous one-of-a-kind Mood Collection of rooms are designed in nine different themes, from the romantic to the artistic.
Relaxed and intimate, the resort's tastefully decorated rooms are set around two swimming pools fringed with fragrant frangipani trees, towering palms, glorious bougainvillea, curling ferns, and trickling waterfalls for a romantic, self-contained oasis far removed from the bustling outside world.



Our friendly staff truly reflects the ethos of Thailand as the 'Land of Smiles'. With their genteel, caring service and a readiness to please, Burasari will become your home away from home.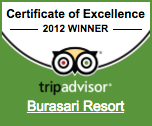 Non-Smoking Hotel :
Please be advised that Burasari follows the local Thai Non-Smoking Law. Smoking is prohibited inside the hotel rooms, restaurants and common areas. Guests are welcome to smoke in Misty's Bar only.